Ingots are the most valuable source of coins available in Phantasmal, adding a total of 10 coins to the Player's inventory when picked up. The Ingot has the appearance of a bar of gold and can spawn as a single brick or a stack of 3. Coins can be traded with Egg Chin in the Apartment to purchase upgrades and items for the Player.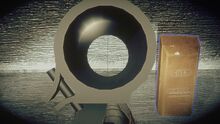 Location
Edit
Ingots are rare, but have a higher chance of spawning depending on what Thread the Player is on.
Locked Cases may also contain a stack of 3 Ingots for a total of 30 coins.
The secret Japanese War Room is guaranteed to contain 4 Ingots, a stack of 3 on the desk in the back room and 1 hidden inside a barrel next to the stack of posters.